The University of Santo Tomas conferred the degree Doctor of Science, honoris causa, posthumously upon its notable alumnus, †Mr. Ricardo S. Po, Sr., the Founder and Chairman Emeritus of Century Pacific Food, Inc., (CNPF) on March 19, 2022. The solemn investitures were held through hybrid modality at the Dr. Robert Sy Grand Ballroom, Bl. Buenaventura Garcia Paredes, O.P. Building, and livestreamed through UST's Facebook page (UST1611official).
The Po Family matriarch and Ricardo Sr.'s wife Angelita Po, the honoree's four sons, CNPF President and CEO Teodoro Po, Executive Chairman Christopher Po, Vice Chairman Ricardo Gabriel Po, Jr., and Director & Treasurer Leonardo Po, and their respective families, graced the event. The academic robe, doctoral cap, the ring, framed medallion, and diploma for Ricardo Po, Sr., were presented to his wife and sons.
"We, his family, his colleagues, his friends and associates, thank this esteemed University for bestowing such a great honor on our beloved Tatay," said Teodoro Po in his acceptance speech on behalf of his father.
During the Address of Petition, UST Graduate School Dean Prof. Michael Anthony C. Vasco, Ph.D., shared Po's history and his inspiring demonstrations of science-based decisions in leadership. Ricardo Po studied chemistry at UST under the College of Science, then called the College of Liberal Arts, from 1952 to 1954. He was later granted the Master's in Business Administration (MBA) degree by the UST Graduate School through the CHED Expanded Tertiary Education Equivalency Accreditation Program (ETEEAP) in 2006.
In 1978, Po started his canning factory, which would become the leading exporter of tuna products in the Philippines. He was a pioneer and trailblazer in the food industry, setting high standards for product quality, sustainability, and affordability. Under his dynamic leadership, Century Pacific has since expanded its portfolio with flagship brands such as Century Tuna, Argentina, 555, and Birch Tree.
By strongly encouraging scientific inquiry and study, several breakthroughs were introduced by Century Pacific through Po's directives. His technology investment led to the very first microwave thawing system for frozen meat blocks in the country, a technique much ahead of its competitors at the time of its purchase. His redesigned corned beef can filler was recognized as the fastest in the industry and 24 years after its conception, it is still the fastest in the country or possibly in the world.
In the 90s, his groundbreaking investment from Belgium paved the way to treat wastewater from marine manufacturing operations. Since then, CPFI has continued Po's efforts in using science and technology to effectively manage natural resources and minimize harmful emissions, such as using high-yield quantum cookers that decreased production costs and market prices.
"Ricardo Po may not have become a full-fledged chemist [by completing his Bachelor's in 1956], but he was a true-blooded Thomasian, for he was a servant leader, effective communicator and collaborator, analytical and creative thinker, and a lifelong learner. Experience became his best teacher," said UST Rector Very Rev. Fr. Richard Ang, O.P., in the Address of Concession.
This was echoed by UST College of Science Dean Prof. Rey Donne Papa, Ph.D., in the Reading of the Diploma, saying that "[Po] was considered a champion of affordable nutrition for all Filipinos and is a firm believer that every household deserves to have delicious and nutritious food on the table. He continues to serve as an inspiration, through his exemplary life, in achieving success through determination, hard work, and resiliency."
Po returned to the Lord's embrace on October 11, 2021. He was 90 years old. UST Rector Very Rev. Fr. Richard Ang, O.P., and College of Education Regent Rev. Fr. Maximo Gatela, O.P., presided over a funeral Mass for Po at the Heritage Park in Taguig on October 13, 2021.
Included among the previous recipients of honoris causa degrees from UST are Jollibee Foods Corporation founder Tony Tan Caktiong, Mercury Drug Corporation founder Mariano Que, Metrobank founder George SK Ty, Focolare Movement founder Chiara Lubich, and many more.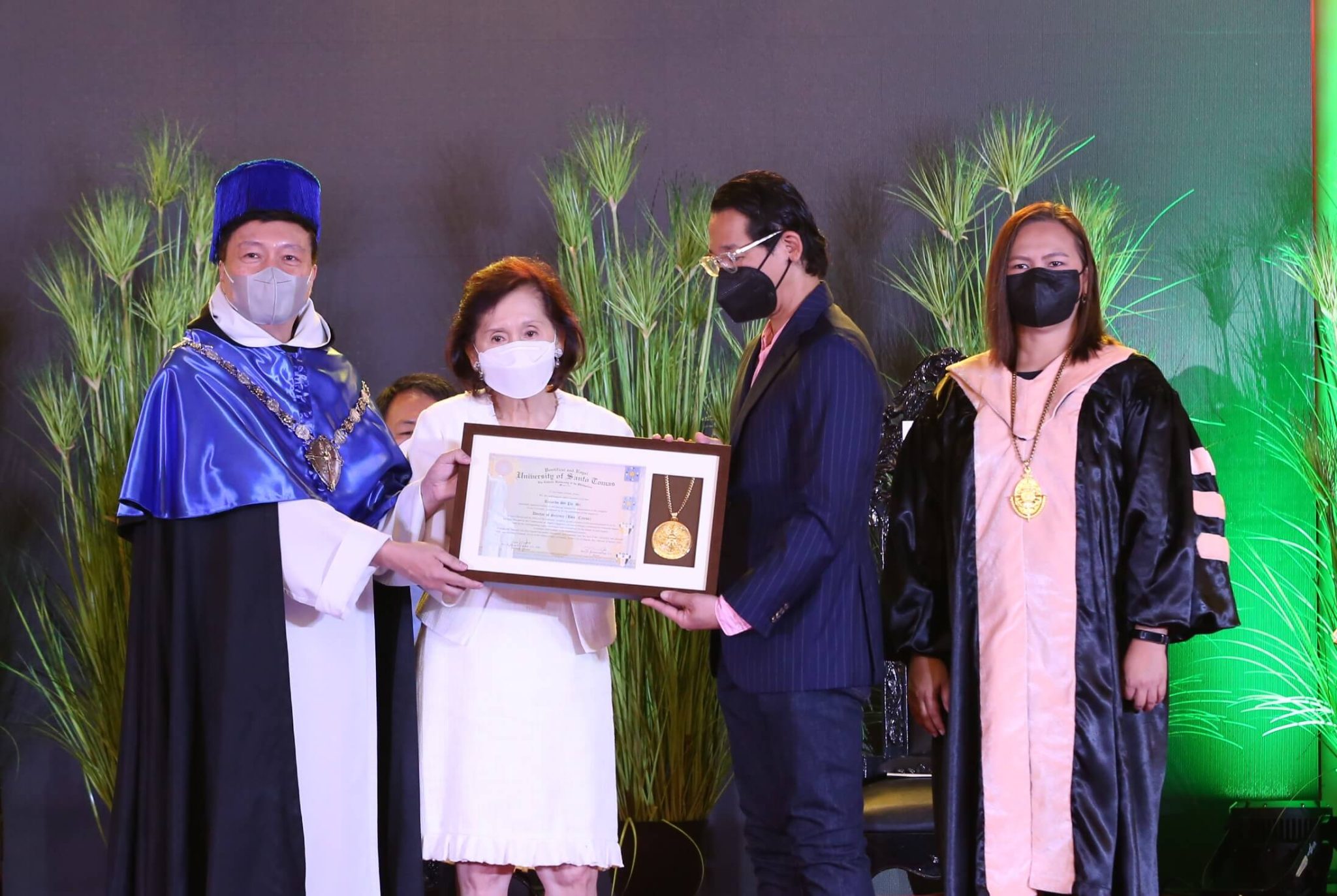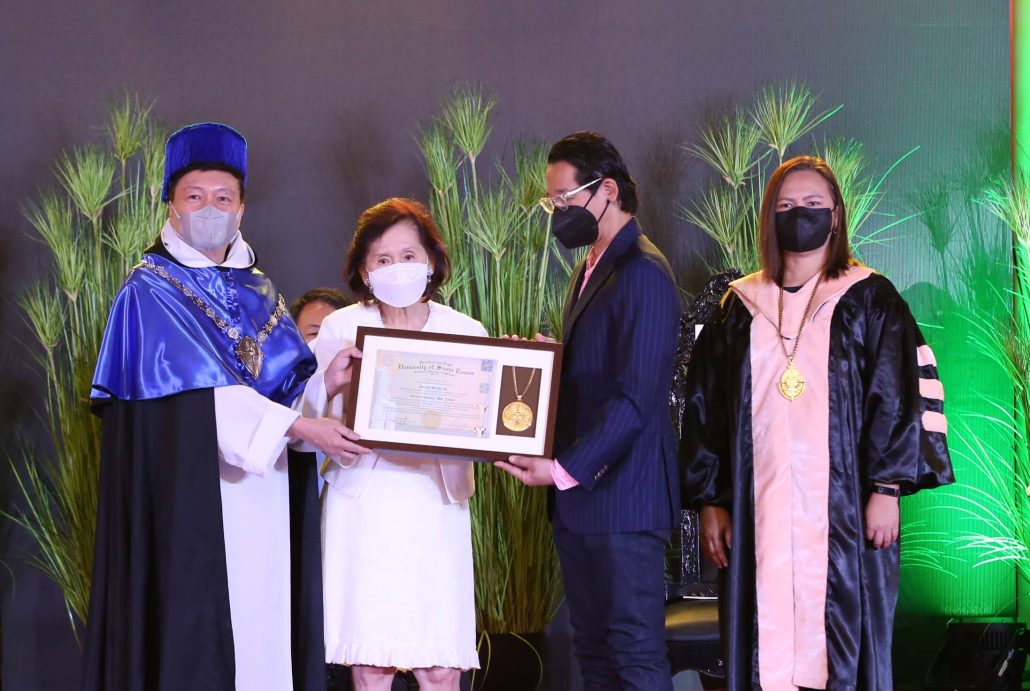 UST Rector Very Rev. Fr. Richard G. Ang, O.P., Ph.D. (leftmost), assisted by Vice-Rector for Academic Affairs Prof. Cheryl Peralta, DrPH (rightmost) presents the framed medallion to Po Family matriarch Angelita Po (second from left) and Century Pacific Director and Treasurer Leonardo Po.


(From left:) UST Graduate School Dean Prof. Michael Anthony C. Vasco, Ph.D., Vice-Rector for Academic Affairs Prof. Cheryl R. Peralta, DrPH, Christopher Po, Teodoro Po, UST Rector Very Rev. Fr. Richard G. Ang, O.P., Ph.D., Angelita Po, Ricardo Po, Jr., Leonardo Po, Prior Provincial of the Dominican Province of the Philippines Rev. Fr. Filemon I. Dela Cruz, O.P., College of Science Dean Prof. Rey Donne Papa, Ph.D., and UST Secretary-General Rev. Fr. Louie R. Coronel, O.P.