Sarap at Sustansya, Pinagsama Na!
Argentina, the number one brand in the canned meat market provides Filipino families with delicious and healthy products to enjoy. It has been in the market since 1995 and continues to delight the entire family with products that fit their lifestyles – moms enjoy cooking Argentina Corned Beef, dads prefer Argentina Sisig for pulutan, kuya and ate love to share Argentina Beef Loaf with their barkada and the young ones are delighted with Argentina Meat Loaf. Argentina always satisfies the needs of the family.
Argentina Ready-to-use Giniling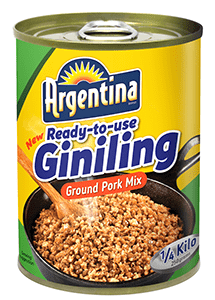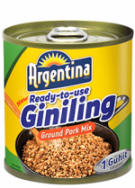 Introducing, the new Argentina Ready-to-use Giniling, Ground Pork Mix! Made with 100% pure pork meat, with no preservatives added. Afforda-pork giniling na pang-luto na pwede sa everyday giniling dishes tulad ng Ginisang Gulay, Tortang Talong, Spaghetti, Lumpiang Shanghai at iba pa!

Available in 1/4 Kilo and 1 Guhit.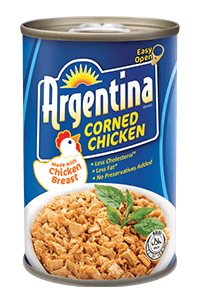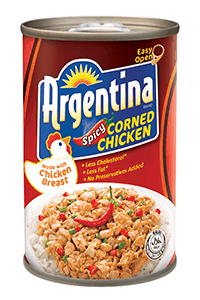 Now there is a ready-to-use chicken sahog with Argentina Corned Chicken! It is made with 100% chicken breast slowly cooked in its own broth then seasoned with flavorful spices. It has no preservatives added and comes in an easy open can, so no need to defrost, boil and shred fresh chicken for your favorite chicken dishes, like chicken carbonara, chicken sopas, chicken macaroni salad, and many more!
Argentina Corned Chicken is available in two flavors: regular and spicy in 100g or 150g.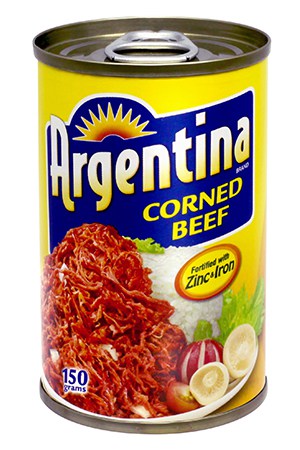 Argentina Corned Beef is an established and the No. 1 corned beef brand that has the food qualities consumer most value – it is filling, deliciously flavorful, has meaty strands, is packed with protein, made with 100% pure beef and fortified with zinc and iron to help boost the immunity. "Siguradong Busog ang Breakfast mo!"
Available in 100g, 150g, 175g, 260g and 1.8 Kg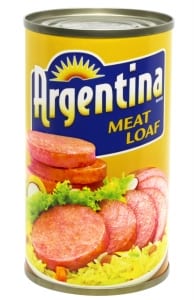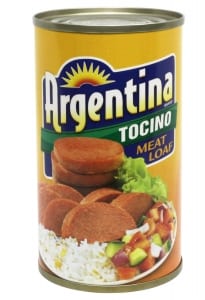 The Philippines' no. 1 meat loaf brand, Argentina Meat Loaf is made from quality meat that's seasoned with the most flavorful yet kid-friendly spices. It also comes in Tocino flavor! Siksik-sarap meat loaf perfect for family meals or for baon! Lahat ng kids and adults, talagang busog-saya with Argentina Meat Loaf!

Available in 100g, 150g, 170g and 250g. Tocino variant available in 170g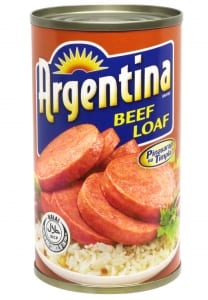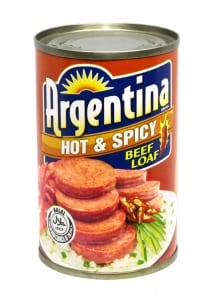 Argentina Beef Loaf is the no. 1 beef loaf in the country. It's siksik with quality meat and seasoned with select spices. Each slice, buong-buo! It also comes in the Hot and Spicy flavor, too! And because it is Halal-certified and adheres to the rules of the Islamic Council, every Filipino family from all regions will surely be busog-sarap with Argentina Beef Loaf!
Available in 100g, 150g, 170g and 250g. Hot & Spicy variant available in 150g
Argentina Chinese-Style Pork Luncheon Meat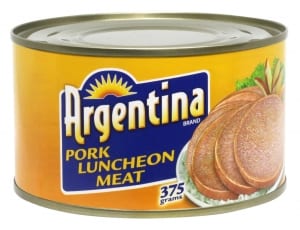 Argentina Chinese-Style Pork Luncheon Meat is made from a blend of tender meats seasoned with salt and select spices. A sarap-Pinoy version of the classic Chinese-style luncheon meat!
Available in 375g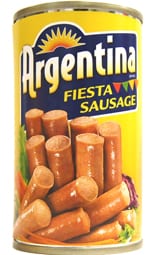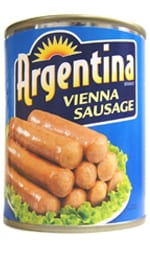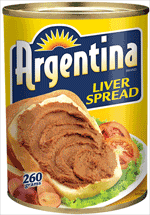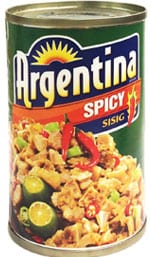 We can also customize them for you!