We commit to the efficient use, reuse, and restoring of agriculture and fisheries resources, as well as better management of our environmental impacts by decreasing our water and energy consumption, lessening our greenhouse gas emissions, and actively monitoring our waste generation as we continue to grow our business and serve Filipinos.

Leading the advocacy for more sustainable fishing practices and responsible sourcing as well as improving how we manage our impacts as part of the solution
Using Skipjack Tuna
This species of tuna is the most abundant of all major commercial tuna species due to its short gestation period and ability to reproduce year-round in tropical as well as subtropical waters. Stocks of skipjack are deemed to be at healthy levels by the International Seafood Sustainability Foundation (ISSF) in 2021.
Traceability
All tuna raw materials are traceable at the source – vessels are registered at the Proactive Vessel Register and audited by a third-party assurance group, MRAG Americas. This ensures that we only source from suppliers who comply with industry best-practices and conservation measures.
International Seafood Sustainability Foundation (ISSF)
CNPF is a member of the International Seafood Sustainability Foundation (ISSF). CNPF also sits on the Board of the ISSF to help shape sustainable tuna fishing practices globally.
Aligning with Other Global Standards and Industry Associations
We are also a member of the Global Tuna Alliance—a market-led initiative that issued the Tuna Traceability Declaration in 2020 in support of the U.N. Sustainable Development Goal 14: Life Below Water.
In 2021, General Tuna adopted the GDST Standards and Guidelines for Interoperable Seafood Traceability Systems, Version 1.0 as part of the global initiative to make global seafood traceability more reliable and more affordable by allowing for interoperability across seafood traceability platforms. This is an important development for the industry to combat illegal fishing and unethical labor practices.
42% of our fisheries are certified by Marine Stewardship Council (MSC). To further our MSC Certification, we are working with the Bureau of Fisheries and Aquatic Resources (BFAR) to manage a Fishery in Progress (FIP) in the Western Central Pacific Ocean High Seas Pocket 1 for 36 Philippines-registered vessels. This FIP addresses a common set of harvest rules and enforcement tools and capabilities to ensure sustainable stocks of Yellowfin and Skipjack tuna. Importantly, the FIP contributes to nation-building as it encompasses all Philippines-registered vessels, thereby helping to make our local fishing industry more competitive on international markets.
To read more about Tuna Conservation, visit the Purchases Assessment page on our website.
Natural Resource Efficiency
Water Consumption Reduction
Continuously improving by invest in technology and deepening our understanding of our water-related impacts on the local communities where we source our water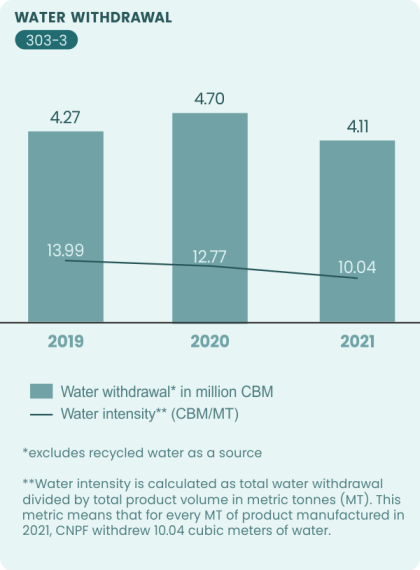 In 2019, we aimed to reduce our water withdrawal per metric ton of product (water intensity) in our Marine and Coconut plants by 20-30% in three years. We have been deploying a range of initiatives to meet our targets such as developing water recycling systems, utilizing alternative water sources such as groundwater and rainwater, improving efficiencies with upgraded manufacturing equipment such as boilers and steam lines in our Sardines production plants, and recycling water within our own operations as much as practicable. As of 2021, our Marine and Coconut plants have reduced their water intensity by 38%, exceeding the initial target.
Energy Consumption Reduction
Implementing energy conservation across all plants resulting in an improvement in our energy intensity of 3% versus the year before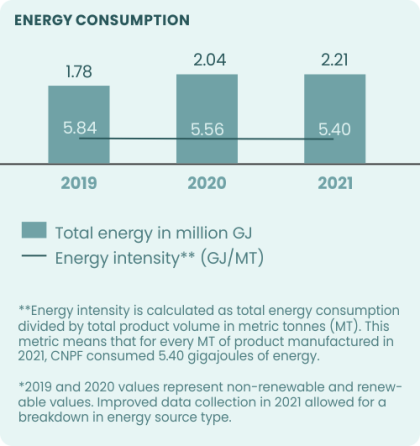 In our Tuna plant, we have implemented 100% energy efficient LED lighting and replaced other systems, equipment, and machinery with more energy-efficient technology.

The Sardines plant upgraded motors to high-efficiency ones that support both their cannery and fishmeal operations.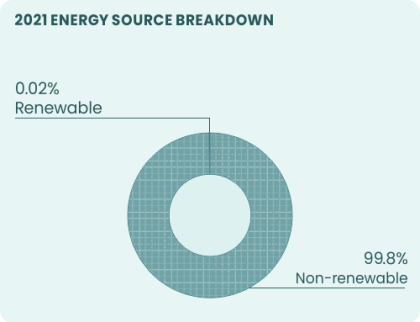 Diversifying our energy mix to increase the share of renewable energy such as solar power
Environmental Impact Management
Greenhouse Gas Emission Reduction
Increasing the share of renewable energy in our energy mix and implementing new waste-to-energy initiatives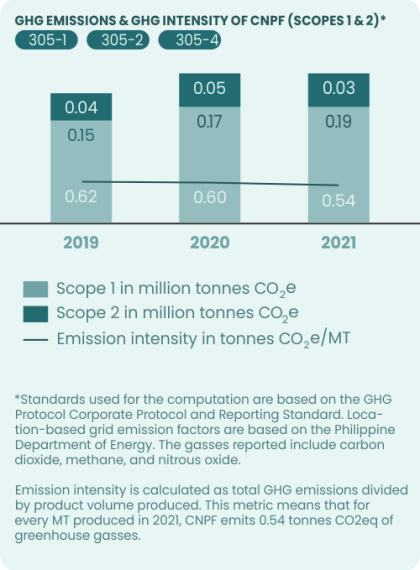 We commissioned a 5.2-MW Solar Photovoltaic (PV) Plant on the site of our Tuna and Coconut manufacturing operations in General Santos City with capacity to generate 7.4 million kWh per year—powering approximately 15% of the plant's energy requirements and avoiding the equivalent of nearly 6,000 metric tons of carbon dioxide. The electricity we purchase for this location also sources a proportion of energy from hydroelectric turbines. As a result, more than 60% of the energy we consume at our General Santos plant now comes from renewable sources.
Offsetting carbon with our Coconut business
In partnership with the Philippines' leading mobile wallet, GCash, and non-profit impact organization, HOPE, we were able to expand and accelerate our previously set commitment of planting one hundred thousand coconut seedlings in five to eight years to now one million over the next two years. The trees that flourish as a result of this initiative are expected to sequester enough carbon to help our coconut subsidiary achieve carbon neutrality by 2028.
CNPF has supported Friends of Hope's agriculture program since 2014 with the aim of improving farming productivity and profitability for smallholder coconut farmers in Mindanao. Now, following the introduction of a GForest feature on the GCash app, more than 9 million GCash users can support our coconut planting campaign. In exchange for every virtual tree redeemed within the app, Friends for Hope will work with smallholder farmers to cultivate a real tree.
CNPF hits three wins with one joint initiative – we get to support farmers' livelihoods, ensure a reliable coconut supply for both our business and surrounding provinces, and move towards carbon neutrality for our coconut subsidiary. In just the first few months of the launch, more than 3,000 hectares of land have already been covered with new coconut seedlings, planting over 300,000 trees by the end of the reporting year.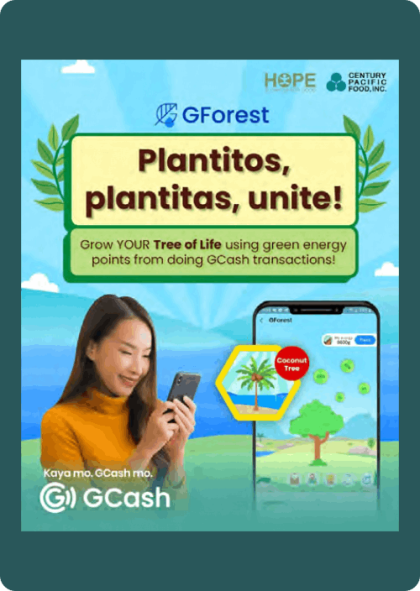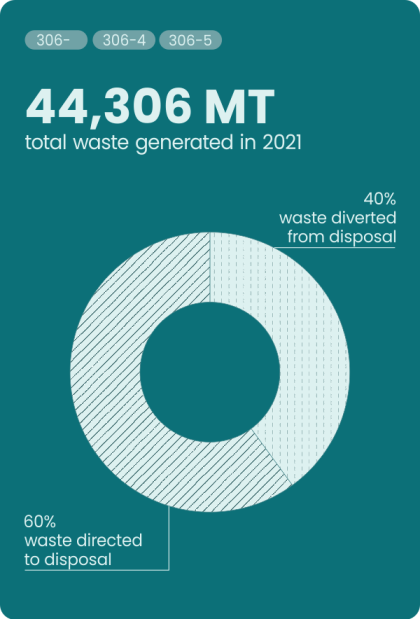 Landfill Waste Reduction
'Doing more with less' by reducing waste at source and recycling or upcycling waste into new resources.

Our Tuna division reduced consumption of plastic stretch films over 60% by switching to reusable wraps for palletized empty cans and finished goods. To minimize waste in our coconut business, we efficiently consume as much of the fruit as possible in our range of products from Coco Mama to toll manufactured products like coconut water, coconut oil, desiccated coconut, coconut flour, among others. To make the most of our raw materials in our marine business, we process excess materials into useful byproducts such as fish meal and fish oil. 

Partnerships with third-party vendors also allow us to co-process and recycle as much packaging waste as possible. Tin cans, glass bottles, metal lids, and plastic canisters and lids are commonly sold as scrap for recycling, while paper labels, case labels, and inner cartons are sold to paper mills to make recycled paper. We also have a constructive relationship with a cement producer to convert coal ash from our operations into useful materials such as hollow blocks or bricks.
Continued partnership with Plastic Credit Exchange (PCX) enables all CNPF brands that use flexible packaging to achieve "plastic neutrality"
Net Zero Plastic Waste Brand Certifications

We are pleased to share that all our brands that make use of flexible plastic packaging have been certified as Net Zero Plastic Waste Brands by Isla Lipana & Co. (PriceWaterhouseCoopers).




The certified brands were the only CNPF brands that use post-consumer flexible plastic packaging during the audited period, making up 20-30% of our branded business.
Supplier Credibility
Seeking business partners that meet our commercial standards, comply with relevant government regulations, and align with our social and environmental aspirations as a responsible member of the community.

Instituted the Supplier Code of Conduct and Ethics (SCOCE) that outlines the company's stance with respect to responsible sourcing and supply chain sustainability

100% of current active suppliers signed and acknowledged the SCOCE as a requirement to work with CNPF


Raw Materials Traceability
Having the ability to trace the origins of each of our major raw materials such as fish, meat, milk powder, and coconut back to the fishing ground or farm where these were sourced from
Refer to the Purchases Assessment page on our website for the latest developments on the international standards, certifications, accrediting bodies, trade associations, and regulating agencies that we align with.
Local Sourcing
Allocate 62% of our total procurement budget on suppliers registered in the Philippines

100% Local Coconut & Sardines major raw materials