We commit to building a highly engaged, inclusive, and competitive workforce, as well as a workplace that provides equal opportunities, safeguards workforce well-being, and promotes professional and personal development, to support the company's current and future strategies and its sustainable success. We also commit to reducing hunger in the communities we adopt via impactful access to nutrition through our products and the livelihood projects we support.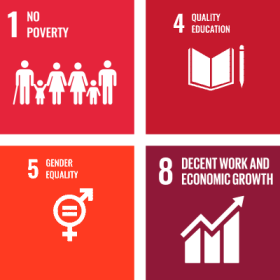 Diversity and Inclusion
Committed to building a talent pool that puts a premium on a variety of skills and potential, does not discriminate based on ethnicity, religion, or gender, and supports the different communities where our stores operate through local hiring

Our Board Charter states our Board Diversity Policy and commitment. Guided by our policies, our Humans Resource Department cultivates an inclusive workplace where all employees, with their multifaceted backgrounds, thoughts, and experiences, are valued and invited to contribute to our growth and success.
Regarding our employees as partners in growing the business and investing in their professional and personal development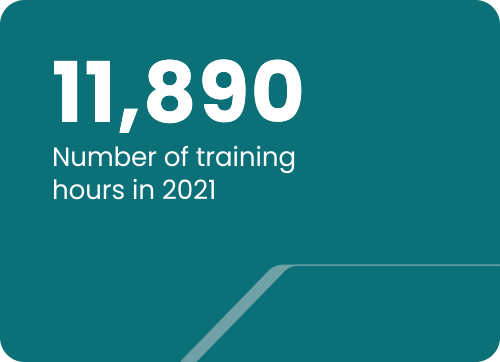 Century Leadership University

CNPF believes that people development is critical to an organization's sustainability. Thus, in 2021, HR began its Century Leadership University to address gaps in technical, functional, and leadership capacities through individualized learning interventions and a competency-guided curriculum. Learning modules in finance, supply chain logistics, research and development, information technology, and sales were prioritized and conducted, and have since improved employee performance.
Century Leadership University also provided training programs to build leadership and management competencies for supervisors, middle managers, and executives across all our business units. As a company operating in a labor-intensive industry, it is important to improve core skills in leading teams and managing employee and labor relations through identifying, reporting, addressing, and mitigating work-related issues. We plan to expand and accelerate this for next-in-line leaders more systematically to bridge the readiness gap.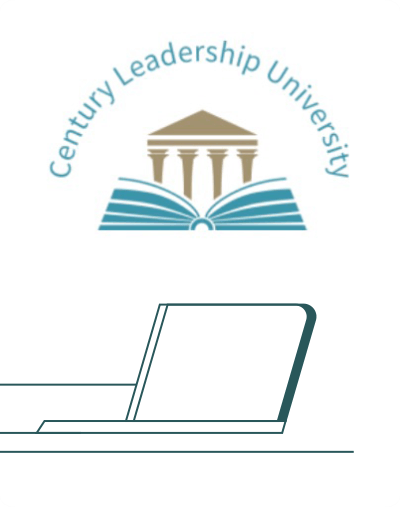 We conducted our first Organizational Health Assessment (OHA) in 2021 to gain a deeper understanding of our organizational strengths, our values, and ways of working. We received an above average score of 81%.
From the OHA survey, CNPF is working to improve as an employer to create a workplace that practices more open communication lines, feedback, and mentoring; nurtures interpersonal relationships within teams and with leaders; recognizes and appreciates efforts; and supports people to fulfill their jobs. The assessment also resulted in having quarterly town hall meetings to share business updates and align on CNPF's direction. These town halls also serve as a venue where employees can openly raise questions and where we can reinforce the core values and celebrate wins. Aside from these, we also digitized our company newsletter, Centurion, to reach more people as an important channel that keeps employees in the loop on our policies, activities, social events, and other company news.
Sibol Awards
Through our company-wide "CNPF Sibol Awards" challenge, we instill this purpose-driven mindset by empowering our business units to implement sustainability projects that drive our Sustainability Framework.
This awards program has become an annual occurrence where business units are recognized – increasing internal awareness, support, and engagement around our ambitions to be a responsible and sustainable company.
In 2021, General Tuna Corporation won first place for its waste management system:
Selling fish meal made from leftover fish viscera from production
Replacing plastic stretch films with reusable pallet wraps in logistics and transport, reducing this by over 60%
Using dewatered sludge from wastewater treatment facility as an alternative fuel in our boilers, reducing coal consumption by around 10%
Banning single-use plastics from plant and office canteens to encourage reusable food containers or paper packaging
Segregating, handling, and tracking various waste types through Material Recovery Facility and partnership with authorized recyclers
Committed to creating decent and safe working conditions for our employees working in our plant facilities, on the field, and in our corporate offices, as well as our contractors and subcontractors to prevent injury, illnesses, death, and health risks

We fulfill this through our Policy on Health, Safety and Welfare of Employees, in full compliance with RA 11058 and the Department of Labor and Employment (DOLE)'s standards.

For every business unit, we have a governing Health and Safety Committee whose primary role is to oversee and safeguard the workplace. The Health and Safety Committee, supported by Safety Officers and marshals on the ground, functions to develop and roll out accident prevention and response programs.
Oplan Ligtas Lahat: COVID-19 response

Partnering with RelianceUnited, a wholly-owned subsidiary of United Laboratories, to roll-out our Oplan Ligtas Lahat program

In 2021, CNPF rolled out a voluntary company-wide vaccination and booster program for employees, their dependents, and key suppliers. As of December, 99.71% of our total workforce in the Philippines have received two doses of vaccination against COVID-19.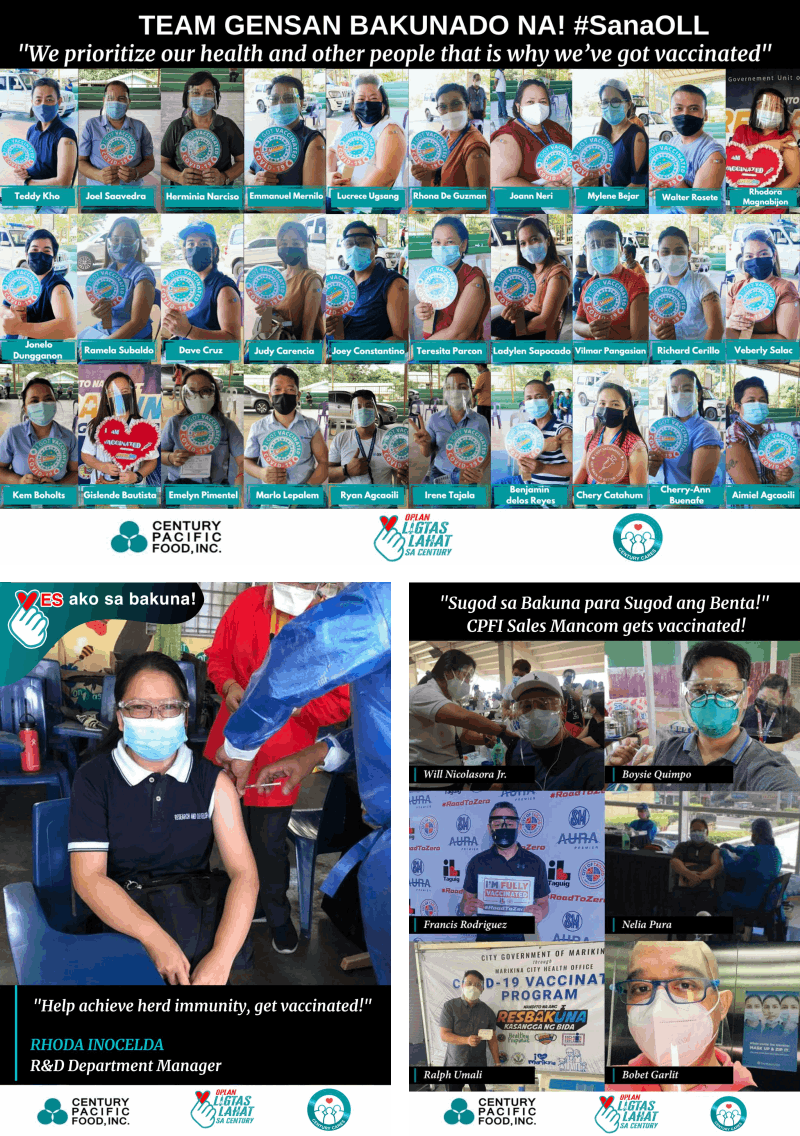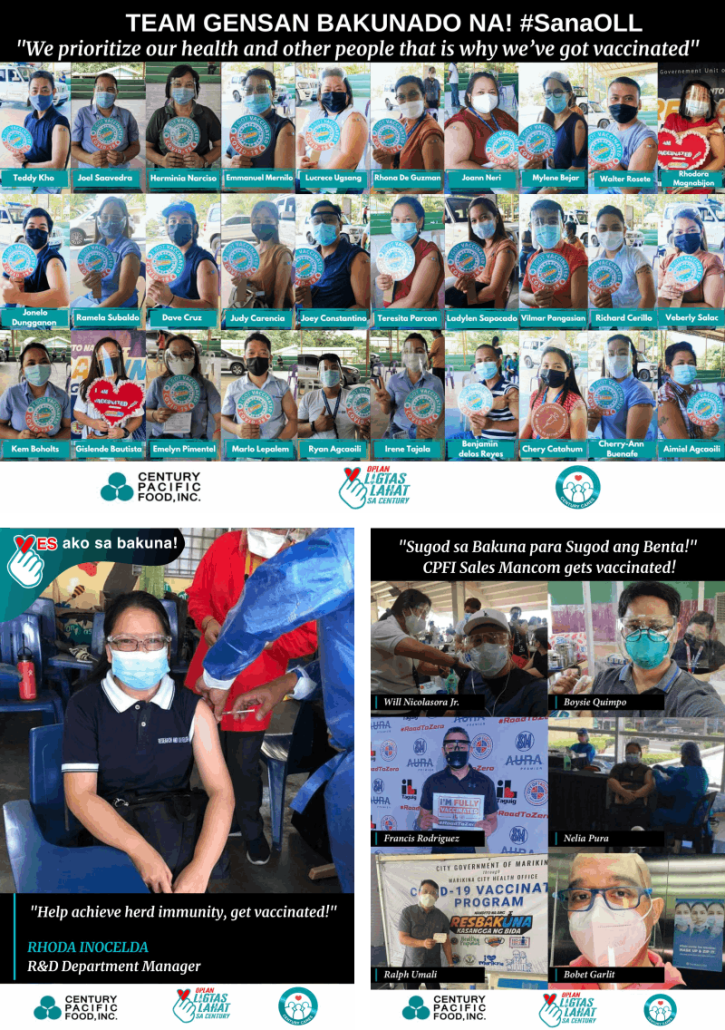 Job Creation and Livelihood Support

In 2021, CNPF supported over 19,000 jobs, comprising of CNPF employees and that of our subsidiaries and affiliates, as well as outsourced workers whose jobs are indirectly supported through our business relationships such as our project-based consultants and employees of suppliers, vendors, and supply chain partners that are primarily dependent on CNPF. This is a 10% increase from 2020 in support of our growth and expansion of our company.
Adopt-A-Farm Program: Promoting Livelihood Security for Seasonally Displaced Workers in Zamboanga
CNPF, through RSPo Foundation, became the first company to participate in the Department of Labor and Employment (DOLE)'s Adopt-A-Farm livelihood program. In partnership with Project Hope Agricultural Cooperative, the program aims to address the lack of regular and stable sources of income among workers in the marine industry in Zamboanga by creating job opportunities during the closed fishing season.
CNPF adopted 4 greenhouse farms in Zamboanga in 2021, where the seasonally displaced workers will be employed as farmers from December to February during the fishing ban. In turn, our Sardines business purchases the harvested produce from the farms as raw materials for manufacturing – creating a sustainable market and securing livelihood for the workers and their families while supporting our business operations.
The greenhouse farms were fully built by July 2021 and since then, 45 jobs were generated for the immediate family members of the marine workers who will be working on the farm throughout the year. From December 2021 to February 2022, the program employed an additional 96 displaced workers as farmers.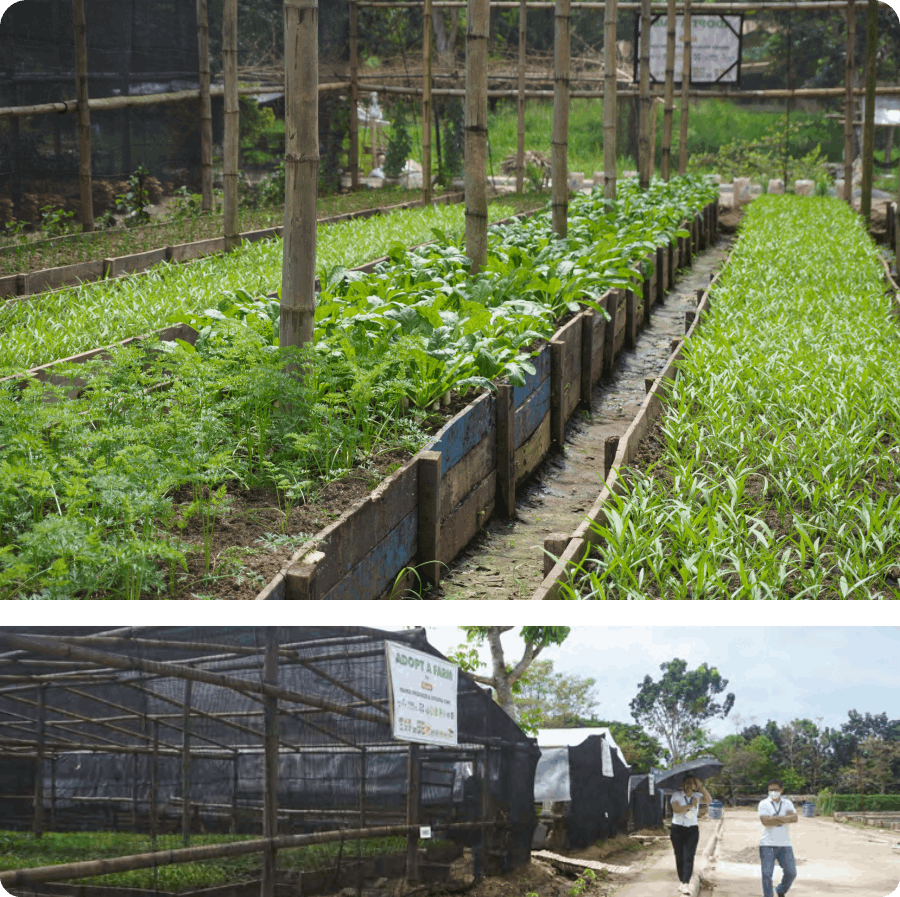 CNPF also worked with the Technical Education And Skills Development Authority (TESDA) in providing agri-tech training for the farmers to equip them with the skills to improve the farms' productivity.
Nutrition Delivery and Education
Providing affordable nutrition and helping improve the overall health among marginalized Filipino communities through programs that help us reach lower to middle income households and communities

Kain Po Feeding Program
RSPo Foundation's flagship feeding program, KAIN Po, targets impoverished communities across the Philippines with limited access to affordable yet nutritious food. When it started in 2010, KAIN Po mainly engaged public schools experiencing low enrollment and high absenteeism to provide daily protein-packed lunch meals for students. Poor nutrition, according to studies by the Department of Education, was a major reason for high dropout rates. As a result, participating students in KAIN Po showed less absences and better school performance due to improved health.

To continue reaching children during the pandemic, KAIN Po shifted to community-based feeding when face-to-face schooling was paused. Taking this approach also expanded the scope to include the children's families. KAIN Po served 8 million meals to school-age children and their families, surpassing its 2021 target of 5 million meals. To date, KAIN PO has served over 45 million meals to 300 thousand beneficiaries all over the Philippines.

Daily Dairy Milk Program
A new milk feeding program in 2021 that addresses micronutrient deficiencies among impoverished school-age youth. Through our leading milk brand, Birch Tree, we were able to deliver over 23,000 servings of milk to various orphanages and welfare centers such as Hospicio de San Jose, White Cross, and Asociación de Damas de Filipinas.