Century Pacific Food, Inc. (PSE:CNPF), one of the Philippines' largest food and beverage companies, and Robinsons Supermarket, a subsidiary of the country's second largest retailer Robinsons Retail Holdings, Inc. (PSE:RRHI), team up to launch Trees of Wellness, a program to support smallholder farmers in Mindanao.
On the 5th of September 2022, CNPF and Robinsons Supermarket, with the help of impact company Friends of Hope, Inc., held the groundbreaking of their joint tree planting program, Trees of Wellness, in General Santos, South Cotabato.
The group aims to plant and donate 100 thousand coconut trees to smallholder coconut farmers in Mindanao. Moreover, a portion of the profits from Vita Coco and Coco Mama products sold at Robinsons Supermarkets will go to the farmers. A total of 3 thousand trees have already been donated to farmers in General Santos during the groundbreaking.
The Philippines is one of the top producers and exporters of coconut products globally and with approximately 3.5 million coconut farmers nationwide, many of whom are smallholder farmers residing in Mindanao. Through Trees of Wellness, farmers are provided with quality seedlings certified by the Philippine Coconut Authority. These seedlings will help improve farm productivity and boost farmers' income.
With the support of Friends of Hope, farmer recipients are further provided with technical training, resources, and increased market access to care for these seeds, reduce tree mortality, and grow their farms sustainably.
Apart from benefiting the farming community, planting coconut trees also helps reduce an organization's impact to the environment as coconut trees are able to sequester carbon dioxide from the atmosphere. This initiative also contributes to securing the country's long-term coconut supply.
Angela Totanes, Marketing Manager of Robinsons Supermarket said, "As a company, we believe in helping communities where we are present. We are truly blessed and eager to support the upliftment of the lives of smallhold farmers through a platform where they can sell the fruits of their labor."
According to Edwin Africa, CNPF's Executive Vice President and General Manager for Meat and Corporate Business Services, espousing sustainable business practices is a key pillar of both CNFP and Robinsons Supermarket. He said, "The Philippines is blessed with coconut trees that are among the best in the world, but, like anything in life, we need to replant and restock for the future generation. This is the essence of sustainable business practices—considering business and operating practices that take broader stakeholders into account; it is being good stewards of the blessings we have today so that we can continue growing for future generations."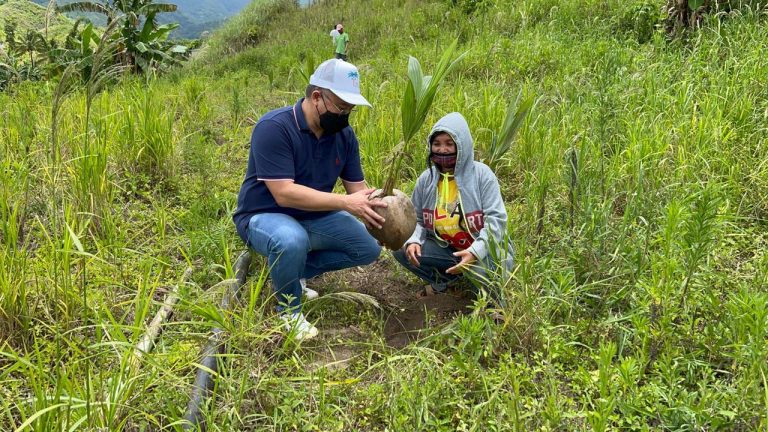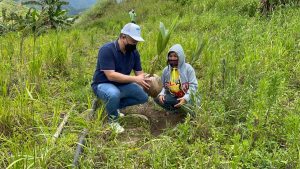 In photo: Wil Nicolasora of CNPF with Lincia Lumbos, a smallholder farmer from General Santos