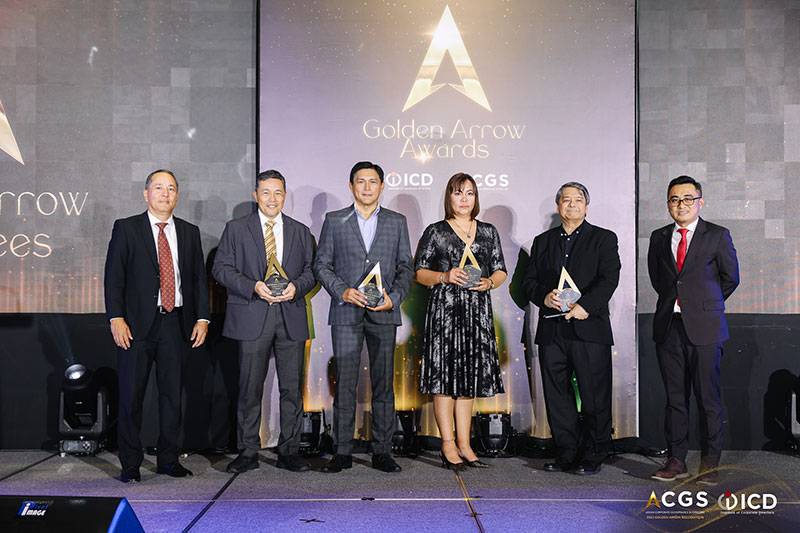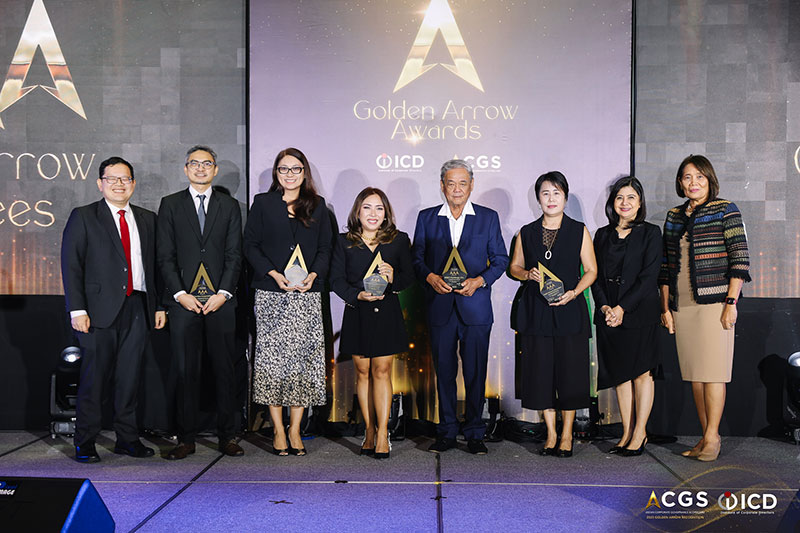 (Top Photo, 3rd from the left) President and CEO, Vicente L. Gregorio, accepts the Golden Arrow Award for PIZZA.)
(Bottom Photo, 3rd from the left) CPFI's Compliance Officer, Atty. Maria Rosario Ybañez, accepts the award for CNPF.)

Two Century Pacific Group-led companies, Century Pacific Food Inc., (PSE:CNPF) and Shakey's Pizza Asia Ventures Inc. (PSE:PIZZA) received recognition from the Institute of Corporate Directors (ICD) at the ASEAN Corporate Governance Scorecard (ACGS) Golden Arrow Awards Night.
CNPF is one of the Philippines' leading food and beverage companies, while PIZZA is the country's leading casual dining chain of restaurants and food service groups. The two companies, which are part of the Century Pacific Group of companies, were honored for their continuous adherence to the best corporate governance standards and practices among Filipino publicly listed companies.
The Golden Arrow Award is based on ACGS, which evaluates companies in several critical areas, including effectiveness in promoting shareholder rights and equitable treatment, their commitment to transparency and accountability, and the board's role in guiding the company's strategic direction and overseeing management in the interest of the company and its stakeholders.
CNPF, having received one Golden Arrow in last year's awards, garnered 3 Golden Arrows this year. CNPF Executive Chairman, Chris Po, expressed his gratitude, saying, 'We are truly honored by this recognition, especially as it signifies an improvement from the previous year. We always aspire to do right by our stakeholders, and this validates that the path we're taking is in the right direction."
PIZZA celebrated its first Golden Arrow Award, marking a significant milestone in its commitment to corporate governance. President and CEO, Vic Gregorio stated, "We are grateful for the trust of our shareholders and the guidance of our board of directors. This recognition underscores PIZZA's dedication to excellence in all aspects of its operations. As we continue to expand and innovate, we remain firmly committed to upholding the utmost standards of corporate governance and aim to further improve moving forward."
Both CNPF and PIZZA place a strong emphasis on the integration of sustainability principles within their corporate governance practices, which is why both companies have established Corporate Governance and Sustainability Committees which not only oversee the effective implementation of their sustainability frameworks but also conduct regular assessments of sustainability risks and opportunities.
Century Pacific established a 3P Sustainability Framework, focusing on Protein Delivery, Planet Preservation, and People Development. This includes initiatives to enhance product nutrition, practice sustainable fishing, and use renewable energy to reduce its emissions. It's also engaged in the Plastic Credit Exchange program for Net Zero Plastic Waste certification of its brands ahead of the Extended Producer Management (EPR) law.
Shakey's sustainability framework revolves around People, Planet, and Pizza. They have initiated inclusive hiring programs for individuals with Down Syndrome and have collaborated with LGUs for senior citizens and specially-abled employment. They also recently partnered with Gawad Kalinga Enchanted Farm to directly source local potato farmers partner for Potato Corner Harvest Chips.
PIZZA is dedicated to reducing plastic waste and expanding healthier menu options through a partnership with PCX, committing 150MT of plastic credit ahead of EPR legislation.
"At Century and Shakey's, corporate governance is interlaced with sustainable practices. We aim to create lasting positive impact to our stakeholders. Thus, beyond the numbers, our commitment to responsible stewardship extends to environmental and social responsibilities." says Po.